Two half-day excursions, one during the mini-school and one during the workshop, were an

integral part of the scientific programme

, as a forum for informal discussions among participants. They were complemented by shorter visits in Yerevan, to the Matedanaran and to the Tsitsernakaberd, and by self-organized trips around the country, to help us get a first taste of Armenia.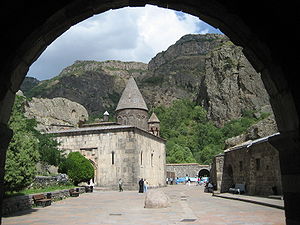 One excursion, on Tuesday 6, was to Garni and Geghard.

Garni

(above) is the one standing Hellenistic temple in Armenia, in the Azat valley, on a site used as a fortress since the III millenium B.C. The temple, probably from the first century, was destroyed by an earthquake in the seventeenth, and painstakingly rebuilt thirty years ago.

Geghard

(right) is an ancient Armenian monastery, partly carved out of the rock, higher up in the valley, and dating back to the 4th century - though the main church is 'only' from 1215.

On Friday 9 we went to

Khor Virap

, a monastery on the border with Turkey, in the place where St. Gregory the Illuminator was thrown in a dungeon for 13 years. He is said to have been able to heal King Trdat III, who had imprisoned him, which persuaded the king to convert, thus making Armenia the first officially Christian nation in the world, in the year 301. We did spend time in the dungeon, and took a closer look at Mount Ararat.